Alternative Big Green Egg Kamado BBQ
Looking for an affordable alternative to the Green Egg without compromising on quality and convenience? Our Grill Bill kamado bbqs are the solution, with our no-nonsense direct sale formula you buy your kamado directly from the manufacturer, with no middleman. You can see this not only by the price, but also by the service!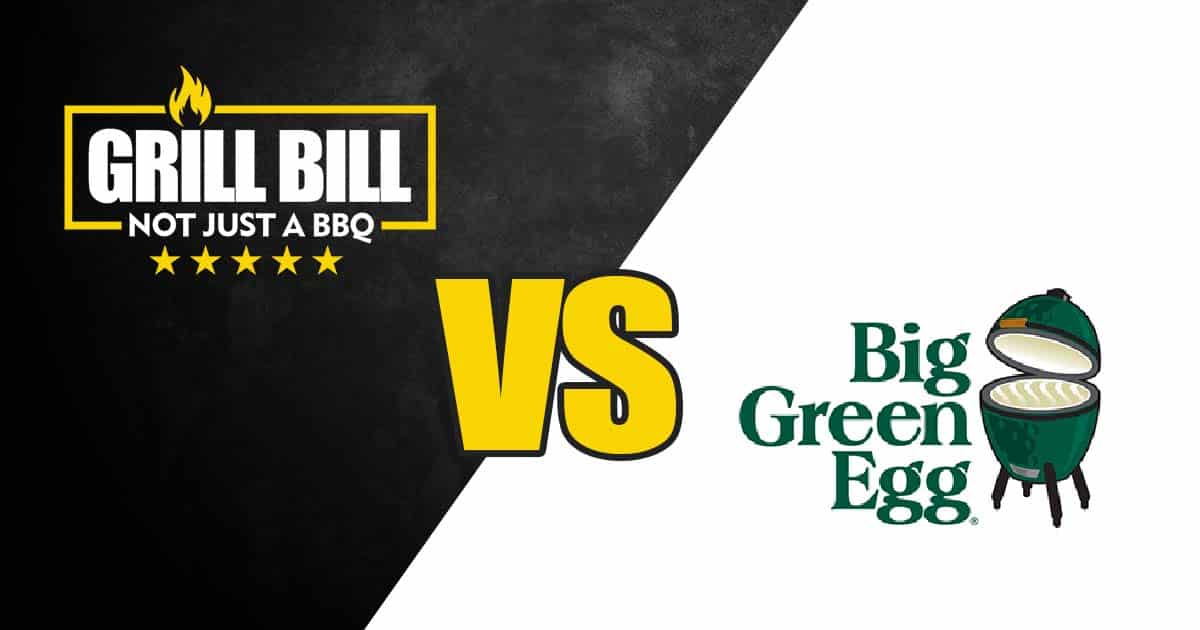 | | | |
| --- | --- | --- |
| | Grill Bill Large | BGE Large |
| Cooking surface size | 47cm | 46cm |
| Recommended price | 1199,- | 1799,- |
| Mobile undercarriage | Included in price | 336,- |
| Cast iron grid | Included in price | 89,- |
| Stainless steel grid | Included in price | Included in price |
| Heat deflector | Included in price | 114,- |
| Ash tray / ash tool | Included in price | 39,95 |
| Gasket between cover | Fiberglass*** | Traditional felt |
| Side boards | Included in price | 121,- |
| Firebox | Included in price | Included in price |
| Firering | Included in price | Included in price |
| Delivery* | 90% assembled | Not assembled |
| Stainless steel air slide | Included in price | Included in price |
| Top vent | Included in price | Included in price |
| Ceramic | Mullite | Cordierite |
| Warranty** | 10yrs | Limited lifetime |
| Total | 1199,- | 2498,95 |
Our Grill Bill Large is 53% cheaper than the BGE Large.
FAQ
BGE vs Grill Bill
Hoe kan het dat Grill Bill zoveel goedkoper is?

Wij zijn pioniers op het gebied van direct sales in de kamado markt. We zijn daarom ook de enige schakel tussen de fabriek en de consument, er zijn dus geen importeurs, groothandels of winkels die allemaal hun graantje mee willen pikken.

Daarnaast heb je bij ons zelf in de hand of je wil **, iets dat bij veel andere merken in de prijs is mee berekend, wel zo eerlijk toch?

Dit is dus hoe we de prijs laag houden en de kwaliteit hoog.

Zijn gerechten gemaakt op een BGE lekkerder?

Nee, je bereidingen worden niet lekkerder op een BGE dan op een Grill Bill. Al is het wel logisch dat veel mensen dit zo ervaren, hoe moet je anders jouw veel te dure kamado goedpraten?

Maar even zonder gekheid, degene die de kamado bedient is de chef, samen met goede kwaliteit ingrediënten bepaalt de chef hoe de gerechten die van de kamado af komen gaan smaken. Het maakt geen verschil of je je ribs nu op een BGE of op een Grill Bill bereid.

Wat is het verschil in kwaliteit?

Los van dat onze kamado's van ander keramieksoort gemaakt zijn is er niet veel verschil in kwaliteit. Dit kunnen we meten door het aantal defecten bij elkaar op te tellen en deze te reflecteren op de defecten van andere merken.

Daarnaast zijn van mening dat in onze, en de hogere prijscategorie weinig tot geen slechte kwaliteit kamado's zijn.

Het keramiek waar onze kamado's van zijn gemaakt word ook toegepast op andere bekende merken zoals bijv. Kamado Joe, nog een grote Amerikaanse speler.

Wat maakt Grill Bill zo uniek?

Wij zijn een van de weinige echte Nederlandse merken in de bbq branche. We hebben gekozen voor een totaal andere uitstraling dan de rest. Zowel onze kamado is anders als onze strategie.

Uniek mat zwart keramiek
Een glad makkelijk schoon te maken jasje, i.p.v. een golfbalmotief
Hoge kwaliteit
Superscherpe prijzen
Zeer compleet geleverd
Betaling in termijnen

*Levering; hoe monteer ik de Grill Bill?

Onze kamado's worden in een stevige doos geleverd, je hoeft enkel nog het onderstel te monteren, en de zijtafels en het handvat te plaatsen. Als je hier de tijd voor neemt ben je ongeveer 20 minuutjes bezig.

In tegenstelling tot de BGE, deze moet volledig in elkaar gezet worden. Van de metalen ringen om de dome en deksel tot aan het scharnier. Een flinke klus voor een klant die dit nooit eerder gedaan heeft.

***Wat is een fiberglass pakking?

Het deksel en de dome moeten goed en luchtdicht worden afgesloten, wij gebruiken hier een fiberglass pakking voor. Een materiaal dat ook in de professionele keuken wordt gebruikt op ovens. Kamado Joe was het eerste merk kamado die hiermee op de markt kwam en zo zijn er intussen meer merken die deze pakking gebruiken.

Voordelen tov vilt:

slijtvast
betere afsluiting
stoere look
makkelijk schoon te houden
Disclaimer: This comparison is based on recommended prices of products available in the Netherlands. We have tried to make as fair a comparison as possible, there are of course more differences, but we have listed the most important ones for you.
No rights can be derived from this comparison.