Dutch Oven 3.8L – Valhal Outdoor – without legs
View and pick up in our showroom
Dutch Oven 3.8L
The design of this Dutch Oven VH3.8L has been well thought out, real attention has been paid to multi-purpose and ease of use. Because the bottom is flat, you can easily use this pan in your Grill Bill kamado, but also indoors on your stove or in your oven.
The lid can be used in reverse as a skillet, because the lid has legs, you can place it directly on the heat source without "smothering" the heat.
Cast iron
Cast iron is a material that conducts and retains heat well, also cast iron is suitable for any heat source.
Use
The cast iron of Valhal Outdoor is already pre-treated with a natural oil, so you do not have to do this yourself before the first use. Nevertheless, we do recommend that you heat the pan thoroughly before using it for the first time. When you take good care of the Dutch Oven, you have a pan for life. To ensure longevity, we recommend taking care of your pan regularly with the VH.WAX.
Specifications
Weight: 5 kg
Material: Cast Iron
Persons: 3 ~ 4
Extra: recess for thermometer, feet on lid
Dimensions: 32 (L) x 31 (W) x 15 (H) cm
This Dutch Oven fits both the Grill Bill 21 inch kamados and the 23.5 inch kamados. Want to put this pan on the 16-inch Grill Bill? Then you can put it directly on the heat deflector.
Often bought
Together with:
Dutch Oven 3.8L – Valhal Outdoor – without legs
Alternatives
The same, but different
Reviews, from real customers
Don't take it from us ...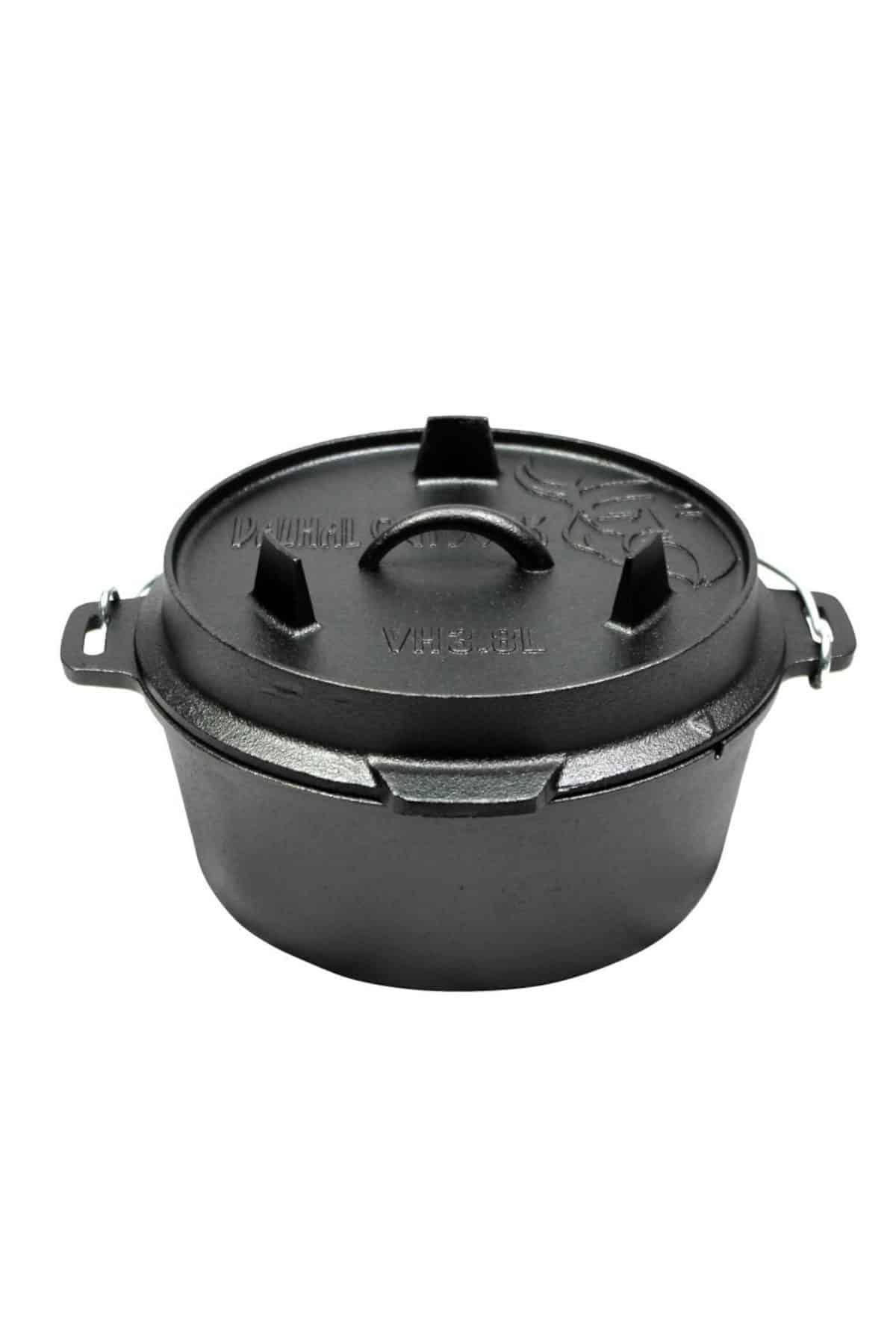 Dutch Oven 3.8L – Valhal Outdoor – without legs