Grill Bill Digital Wireless Thermometer
Measuring equals knowing with this handy digital BBQ thermometer. With a handy handheld transmitter, and no annoying app on your phone that you have to open every time.
View and pick up in our showroom
Digital Thermometer
Never again raw or overcooked dishes, with this thermometer only 1 thing applies, measure = know! With a handy probe for on the grill and 1 probe for in your dish.
Specifications
Size: 6.2×10.5×2.5cm
Size Base: 7.4×5.5×2.5cm
Length of wire: 105cm
Often bought
Together with:
Grill Bill Digital Wireless Thermometer
Alternatives
The same, but different
Reviews, from real customers
Don't take it from us ...
Digitale temperatuur meter
Nette prijs en elk soort vlees wat je gaat bakken kan je instellen,van rauw tot helemaal doorbakken. Minpuntje is dat er gebruiksaanwijzing bij zit en je zelf moet uitvinden van werking ervan. Als je het eenmaal door hebt een makkelijk en prettige toevoeging
Draadloze thermometer
Super handig, 2 probe metingen voor op de grill en kern temperatuur. Je stelt alles makelijk in en zelfs met alarm voor behaalde temp en tijd. Zeker als je nog wat moet oefenen met tijd en temp is dit een aanrader 👌🏼
super thermometer
handige thermometer waarbij je zowel de temperatuur op het rooster kunt meten en ook de kerntemperatuur. onmisbaar voor elke BBQ'er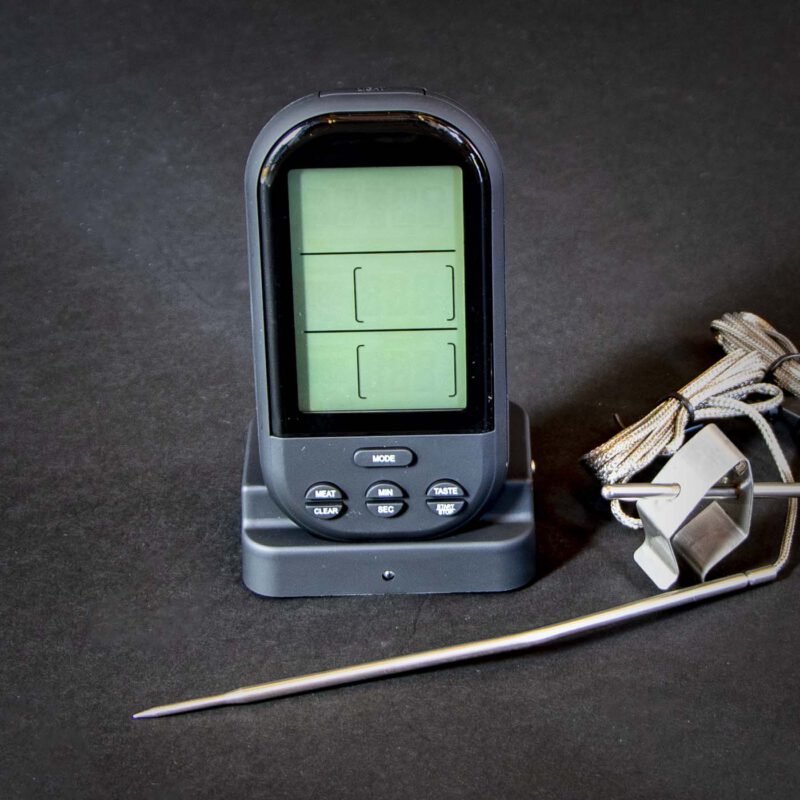 Grill Bill Digital Wireless Thermometer