Kamado Rotisserie Kit – Grill Bill 21 inches
A nice chicken from the spit, gyros, kebab, anything you can rotate and grill can be put on this rotisserie kit. In no time, you'll turn your Grill Bill into a grillspit paradise.
View and pick up in our showroom
Let op: vanwege beperkte voorraad is dit product enkel bestemd voor bestelling icm een Grill Bill Kamado of voor klanten met een Grill Bill kamado. Als je geen eerdere bestelling bij ons hebt geplaatst word de order geannuleerd.
Rotisserie Kit 21 inch kamado
Specificaties
Netadapter 220V
Afmeting: 87x 54.5x 7cm
Geschikt voor: Grill Bill 21 inch modellen
Often bought
Together with:
Kamado Rotisserie Kit – Grill Bill 21 inches
Alternatives
The same, but different
Reviews, from real customers
Don't take it from us ...
Rotisserie
Vandaag voor de eerste keer gebruikt,wel op batterijen in plaats van stroom ivm,geen zin in verlengkabel pakken. Werkt perfect en is super simpel in gebruik. Echt een prettig product om te gebruiken.
Vooral gewoon leuk
Een kippetje aan het spit op je kamado is toch wel een ultieme beleving. Simpel en erg lekker.
Je kunt er overigens veel meer mee.
Bij het systeem zit geen beschrijving, maar het wijst zich zelf wel.
De set heeft 2 standen, 1 voor netstroom aansluiting en 1 voor batterijen.
Wel een prijzige accessoire.
Kamado Rotisserie Kit - Grill Bill 21 inch
Mooie Rotisseriekit, ben blij dat ik hem er meteen bij heb gekocht. Deze gaat nog veel kippetjes grillen.
Prima toevoeging
Past perfect op de grill bill.
Een klein minpuntje is het geluid van de motor. Vandaar een sterretje er af maar zeker een fijne toevoeging aan de grill bill.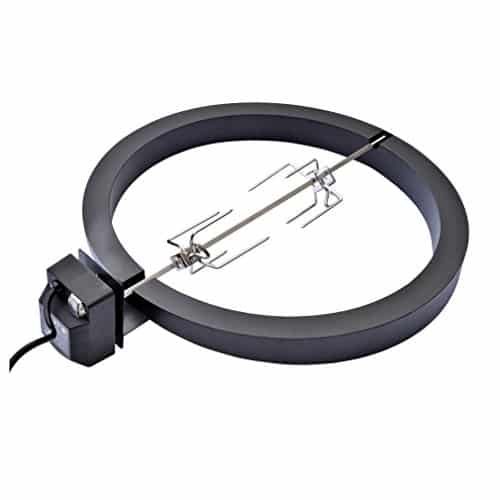 Kamado Rotisserie Kit – Grill Bill 21 inches