OUR BBQ WORKSHOPS
From the Grill Bill Academy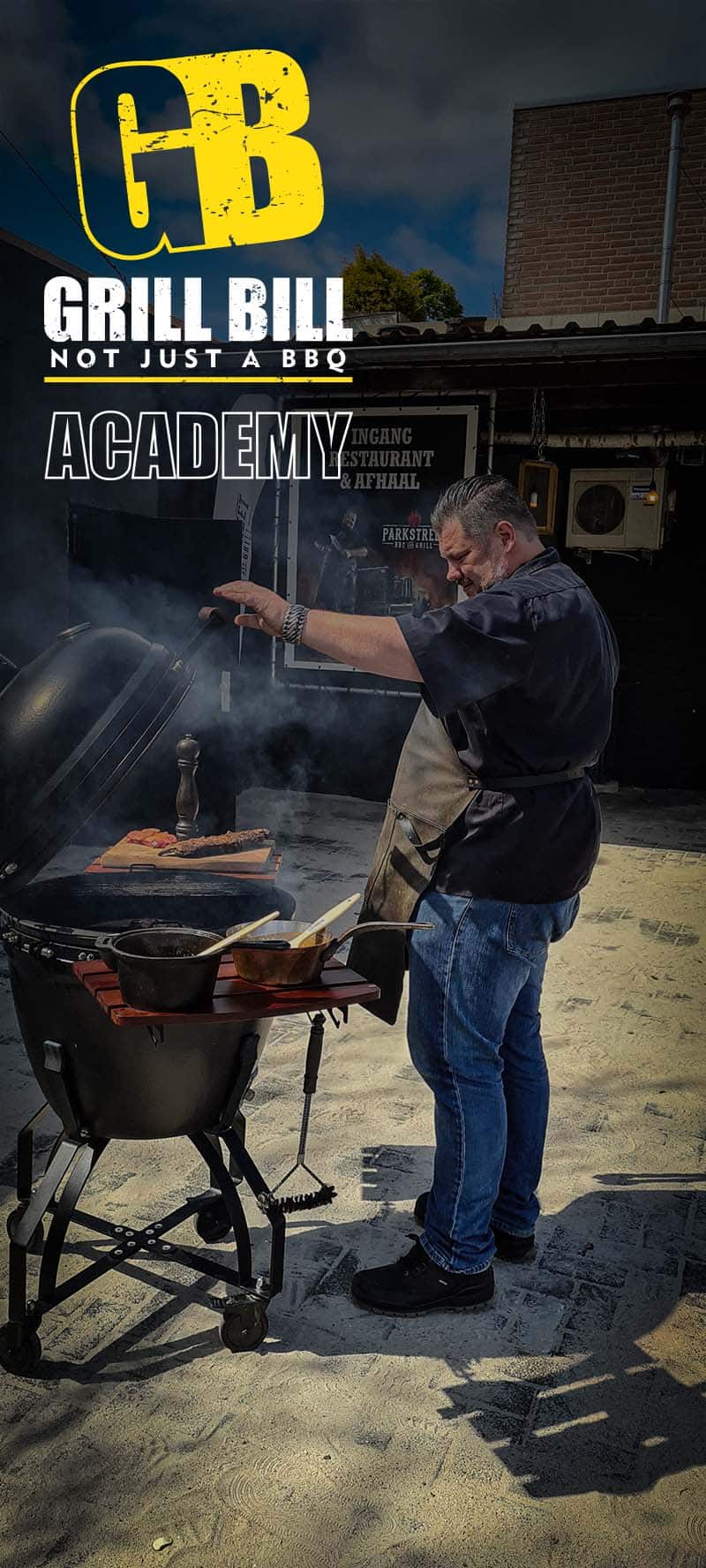 BBQ WORKSHOP
Grill Bill Academy
Grill Bill Academy, for anyone who wants to learn how to use one of our Grill Bill kamado BBQs. And for anyone who likes to socialise, have a bite to eat and a drink.
In cooperation with BBQ Grill restaurant Parkstreet in Nuenen, led by JanPieter Stuijt, we will start organising Grill Bill Kamado Workshops. From basics, to low and slow, to culinary BBQ'ing, everything is covered.
As soon as we are allowed by our government to start our Grill Bill Academy again, so subscribe now and be the first to know when our workshops start and let us train you to become a real Grill Bill Grillmaster.
About JanPieter Stuijt
Grill Chef
Out of love for cooking and of course barbecuing, Parkstreet BBQ&Grill was born!
The love of barbecuing was dormant from an early age through my grandfather who was a contractor and would provide barbecues in his yard for the whole family. 2 large plates on schagen with a tablecloth over it and you had a table. 2 sheds with an old sink with 2 grates on it was the bbq. And then everything went on it: from meatball to chicken drumstick and chops and my grandfather's secret spice mix.
Prices
Good value for money
We want to use 4 to 5 different workshops, prices will vary from 50 to 80 euros p / p / .
BBQ Workshop FAQ
Frequently asked bbq questions
We want to train our customers well, so that you learn how to use your (Grill Bill) kamado better. You will therefore be taught by a real grill master who will teach you the intricacies of barbecuing on a kamado.
Yes, everyone can participate, young, old, fat, thin, as long as you like bbq, good food and sociability.
Our workshops take place at our office in Eindhoven, at Breitnerstraat 9. We are located in the center of Eindhoven, 10 minutes walk from the station, and 5 minutes walk from the stratums end. So if you want to grab a nightcap after our workshop, it will only take you a few minutes to find a nice pub.