KAMADO BBQ'S
VAN GRILL BILL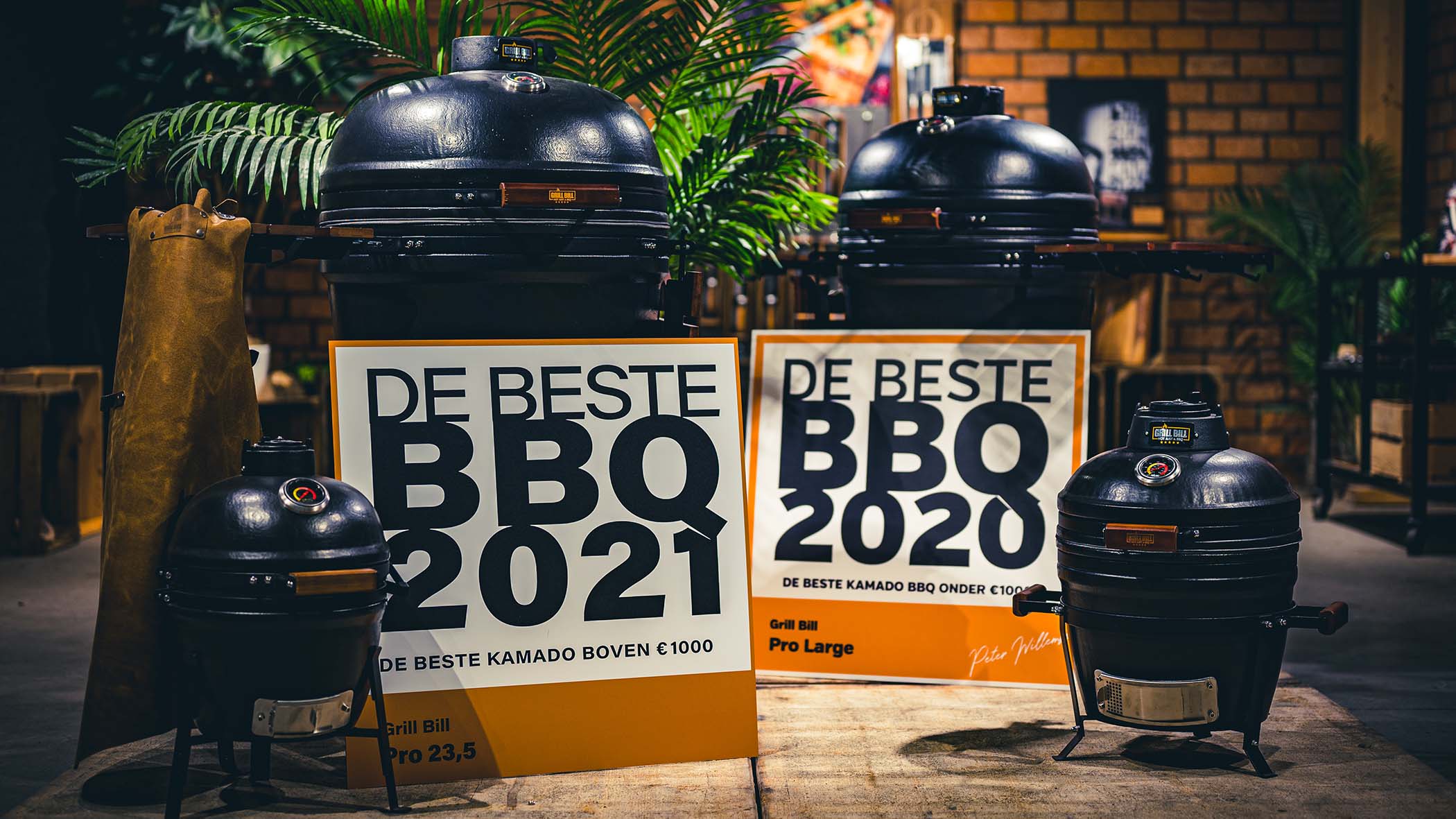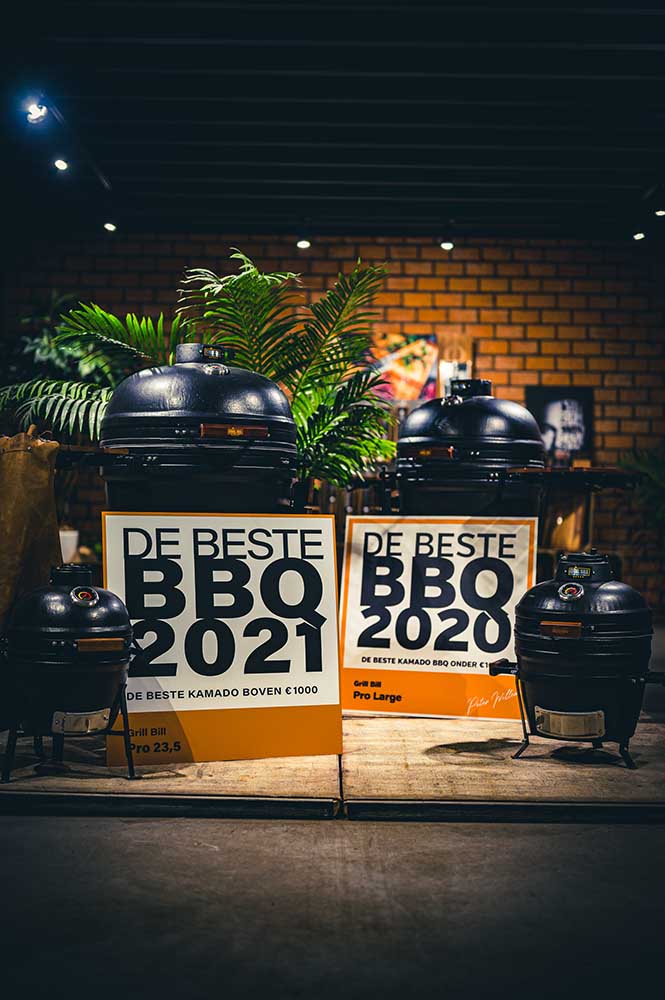 Experience the ultimate feeling of freedom, of cooking outside on a fire, and enjoying it with friends and family. That's Grill Bill! Your outdoors will never be the same with one of our kamado bbq's. As a worthy substitute for your kitchen, a Grill Bill stands in your garden, your outdoor kitchen.
Moments to remember, to make memories. We welcome you to our Grill Bill Kamado BBQ family!
Grill Bill Pro Kamado BBQ
Made for Pros
Looking through the eyes of a bbq professional, we designed our Grill Bill Pro kamado bbq. With accessories that really matter. Like the cast iron grill grill that lets you bring out the best flavours in your dishes.
State of the art features
Equipped with a fiberglass gasket, which unlike traditional felt will last for years. Even a handy ash tray should not be missing, so you will be done removing leftover ash in no time.
Dutch Design
Not to mention the eye-catching smooth design, with matte black enamel coating and dark wood accents. This not only exudes professionalism, but is above all timeless, a colour game that will never be bored.
available in 4 Flavors
Small (13 inches), Medium (16inch), Large (21 inches), Extra Large (23.5 inches)
THE BEST KAMADO BBQ 2020 AND 2021
QUITE A BIT OF PRIDE
Both our Pro Large and Pro Extra Large have been awarded Best BBQ of the Year 2021 and 2020. Besides the excellent price/quality ratio, we also score well on finish and design. Our sleek design and matte black color are a hit.
Will we participate again next year? We still have 1 kamado with which we want to win a prize, this will probably compete next year for the title "Best BBQ 2022 under 500,- ".
Grill Bill Classic Kamado BBQ
For the smaller wallet
Our entry-level model, for the smaller wallet. Slightly less features, but with exactly the same ceramic quality as our Pro kamado bbq.
Design
Our Classic kamado BBQ is one with a chic touch, the glossy black glaze shines like a mirror. Of course, you're going to have to scrub it up on a regular basis.
available in 4 Flavors
Small (13 inches), Medium (16inch), Large (21 inches), Extra Large (23.5 inches)
The kamado bbq
A lesson in history
A Kamado BBQ come in many shapes, sizes and colours. But the principle remains the same with every kamado bbq. It is and remains a charcoal fired ceramic cooker. About 3000 years ago it flew over from Japan to The Americas, and now can be found in the Netherlands for a number of years now.
Grill Bill is a Dutch brand kamado that is slightly different from other kamado bbq's, with its own design and smooth dome, instead of the common golf ball model. And then a shiny or matte black glaze layer, which is unique on the kamado market. And what goes well with black? Right, tough dark brown accents, these complete the Grill Bill kamado bbq.
KAMADO BBQ LESSON
BE YOUR KAMADO THE BBQ BOSS
How does a kamado work? What can you do with it? Why should I buy a kamado instead of a kettle bbq or smoker? Can a kamado be used in an outdoor kitchen? How do I control the fire? All normal questions that every kamado bbq'er has. That is why you can take part in our Grill Bill Academy, an instructive programme which enables you to get to work in practice by means of a bbq workshop, and you can also go through our bbq e-learning programme. We feel it is important that every Grill Bill customer can make optimum use of his kamado.
The secret
From the kamado bbq
You might ask yourself, what makes a kamado bbq so special? There are so many cheaper kettle barbecues available. The secret of our kamado is in ceramics. The ceramic dome retains the heat much longer, also the humidity level is better maintained. This makes your dishes much more tender and juicier than on a traditional kettle barbecue or smoker.
This gives the ultimate culinary experience. Because the heat due to the ceramics remains super good in the kamado, this type of grill is much more efficient in fuel consumption. That means less charcoal consumption and longer bbq fun.
In addition, you can control the temperature in the dome much better, through the ventilation grilles it is possible to prepare your dishes both low and slow and high and fast up to 400 degrees or hot. In addition, with a kamado you can grill, bake, roast, smoke, and steam. Do you have a device in your kitchen that can do more than this?
Experience the freedom
Cooking from outside on a kamado bbq
Using our Grill Bill Kamado bbq is very simple, if you know the basics. A lot of oxygen provides enough heat for high and fast preparation like pizzas and steaks. And low oxygen means lower temperatures, this allows you to prepare your dishes with the low and slow method.
Low and slow is an age-old cooking technique that ensures that chewy meat comes from your kamado in a few hours.